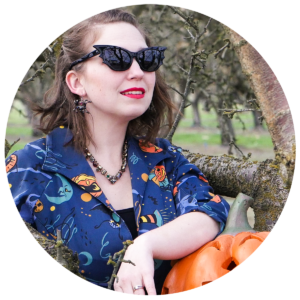 Welcome! I'm so happy you are here to blog and vlog along with me. I love many many things and I use my blog to spin webs from one topic to another, connecting the many things I love in this webspace I empty my brain into.
Who am I?
I'm a multi-interest person who is trying to use my social media platforms as a means of connecting with people who share my passions and hobbies. I'm happily married with a fearless baby girl monster, a little boy ghost newly haunting our space, a whole menagerie of pets and a home that never seems clean nor lacking in excitement.
I am fueled by adventure, wonder and discovery and have found it important, above anything else, to be constantly learning and trying new things.
---
I have been designing and creating since I can remember, unveiling a passion for web design and digital graphic creation during high school. That passion has only grown and continues to flourish as I push myself to learn more and more with all that the digital age has to offer.
I have worked extensively in the early childhood education field for over ten years. An extended care aide, an instructional assistant, an early childhood assistant teacher, an early childhood lead teacher as well as an extended care program supervisor and an instructor to trainee Montessorians are just a handful of the many hats I've worn throughout my educator career.
I love socializing and I love making new friends. It is my goal that through being more active here and on my social media outlets, I will discover amazing friendship and exciting connections.