Now considered a more common drink during "wassailing" season or during Twelfth Night, originally La Mas Nbhul or lambswool was a recipe drunk during the feast of apples (Lammas), most namely during the end of harvest time as the evenings got colder. It's a simple drink consisting of apples, ale and spices and often consumed alongside barm brack cake. It is perfect to warm the bones during the now chilly nights.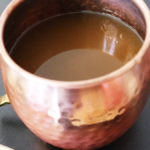 Print Recipe
La Mas Nhbul
Ingredients
3

bottles

real ale (Newcastle or similar) OR traditional cider (Woodchuck, Hornsby's or similar)

3-6

apples

Bramley or Granny Smith apples – depends on what you can find

1

nutmeg

grounded

1

tsp

cinnamon OR ground ginger

1

cup

brown sugar
Instructions
Preheat oven to 350ºF (180ºC).

Core apples and bake in oven for hour or until soft. Let cool for at least 10 minutes.

In large saucepan, add sugar and cover with small amount of cider (or ale). Heat on low and stir until sugar has disolved.

Add cinnamon and nutmeg. Stir and bring to gentle simmer. Gradually add remaining cider (or ale). Leave on low heat for 10 minutes.

Remove skins of apples then mash into a puree with fork. Puree should not be lumpy.

Add puree to cider/ale mixture, whisking to mix.

Warm for 30 minutes or leave on low heat until ready to serve, whisking vigorously right before serving.

Ladle Lambswool into heat-proof mugs or glasses and grate nutmeg to garnish.
Notes
Original Recipe: Oakden
The recipe says you can get 3-4 servings out of this, but we were able to get 5 very generous ones.
My family greatly enjoyed it after our Samhain feast and my sister added a little spiced rum to her portion for more of a kick as you cook the alcohol out of the ale/cider and she said it tasted even better.
---
Outside of the oh-so-popular pumpkin spice lattes, what autumnal drinks do you enjoy?