I feel very fortunate to live in such an agricultural rich state. California has lots to see and in the autumn, one of the real special treats are when farms all around create fun attractions for the public to join in and celebrate the harvest. We live in the central valley of California, which is farm towns all around, but it is definitely not the only agricultural areas we're familiar with.
My mother-in-law lives in Watsonville, which is only a half hour drive from the Santa Cruz boardwalk. Watsonville is also only an hour or so away form Monterey and Half Moon Bay, which, despite being known for the famous Monterey Bay Aquarium, is also another all around agricultural rich area.
There is one farm in particular that opens it's fences to visitors to a very unique experience from your typical corn maze. That, is Arata's Pumpkin Farm.
There's not a ton to do, but you won't need much to entertain yourself. Not only do they have the biggest selection of pumpkin varieties I've ever seen, there's a petting zoo, haunted barn, pony rides, a trian for the kiddies and a hay maze.
It doesn't look like much when you see it from the outside, but this maze should really be called a labyrinth. Once you enter, your sense of direction is completely thrown off. And when you climb up the tower beside the maze, you can really see why!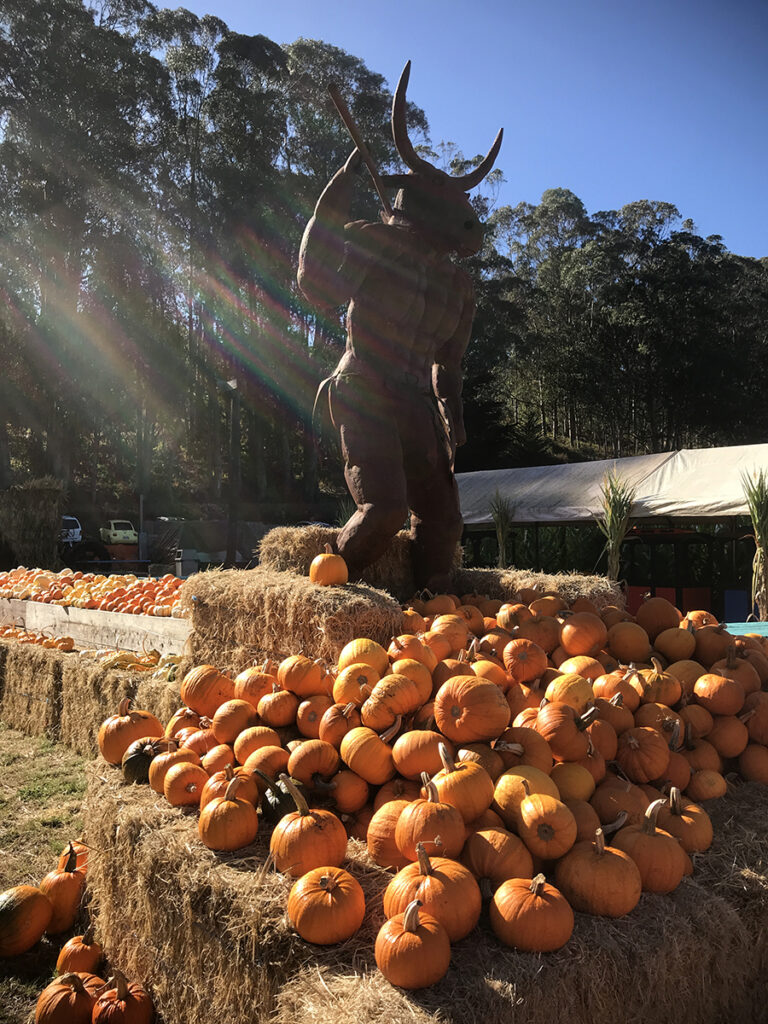 Before entering the maze, you are greeted by a rusted-over statue of the labyrinth's mascot. A handsome minotaur surrounded by offerings of pumpkins.
The real adventure begins when you decide to venture into the maze! Watch the video above to see what our romp through the hay was like. We really had a blast, but were a little bummed we missed out on the Minotaur actor that supposedly makes his rounds and hands out golden pumpkins to children.
Hopefully we'll catch him next year?
The rest of our visit was spent doing your typical farm stuff. We visited the petting zoo, where our little one was most interested in petting the animals that ran away from her instead of the ones sitting around, not caring if you touched them. Sounds like my girl.
We picked out some assorted mini pumpkins and gourds for sensory play and found a perfect little sitting area to take a rest and some cute pictures. 😉 But you'll have to wait for national pumpkin day for those!
We did a little more meandering then decided to call it a day. We really had a blast exploring Arata's Farm and I'm really hoping we can make it more of a tradition in the future. It was really fun to have our little one lead the way in the labyrinth and spending time with family outdoors is just one of my favorite adventures. Plus, I need to run into a minotaur. How often do you get to say you've met a minotaur?
---
Have you ever visited a farm in the autumn time that was different from your standard corn maze? I would be so interested to hear about your adventure and where it took place. Be sure to share your tale in the comments below!