I am excited to share some of the amazing creatives from my Midsummer Scream 2023 shopping haul in hope you will add them to your list too! I shied away from sharing my Midsummer Scream shopping haul last year mainly because I forgot to take photos of what I got, but not this time.
Many of the people I purchased from this year have been on my list from previous years of Midsummer Scream. I'd come across their booth, but would either be on my way to a panel or be without my wallet and forget to come back to shop. This year, I was determined to return to these booths and purchase from them. Because of this, I also happened across some new exhibitors! So let's get into my Midsummer Scream 2023 haul!
Wishlist Exhibitors final Supported
I've been following Michelle's art for quite a while now and I absolutely dig her style. She's been vending at Midsummer Scream for quite some time. As such, her booth is definitely one of those ones that's pretty popular. I always planned to return when it was less busy, but then I never did. Knowing she's a regular exhibitor, I always put off shopping online with her shop, but not this time!
As if that wasn't enough, Michelle was advertising that she was doing these beautiful tapestry blanket pre-orders. She had the gorgeous one that was Over the Garden Wall inspired. Naturally, I ordered one as soon as I got home!
I picked up a blind-bag of Vintage Halloween prints, the Haunted Mansion pin set, the Mary Lywd jumbo pin/ornament and the Pottsfield bolo tie. I've been lusting after that bolo for years. Somehow, I'd always forget who was selling it and then it would pop up and I'd forget to buy it.
I am a repeat offender at Carrie's booth, but I have to promise myself not to pick up more of her prints until I get her previous ones framed. Which is very challenging because her Hallowtiki cocktail prints are just so cute. I wish I had an entire wall to display them. I was sporting her "Ghost Host" necklace throughout the event. It is one of my favorite necklaces to wear and I love bragging about it.
This time around, I had my eye on collecting more of her spooky cocktail pins. I snagged her Sandworm and Ghostbuster cocktail ones.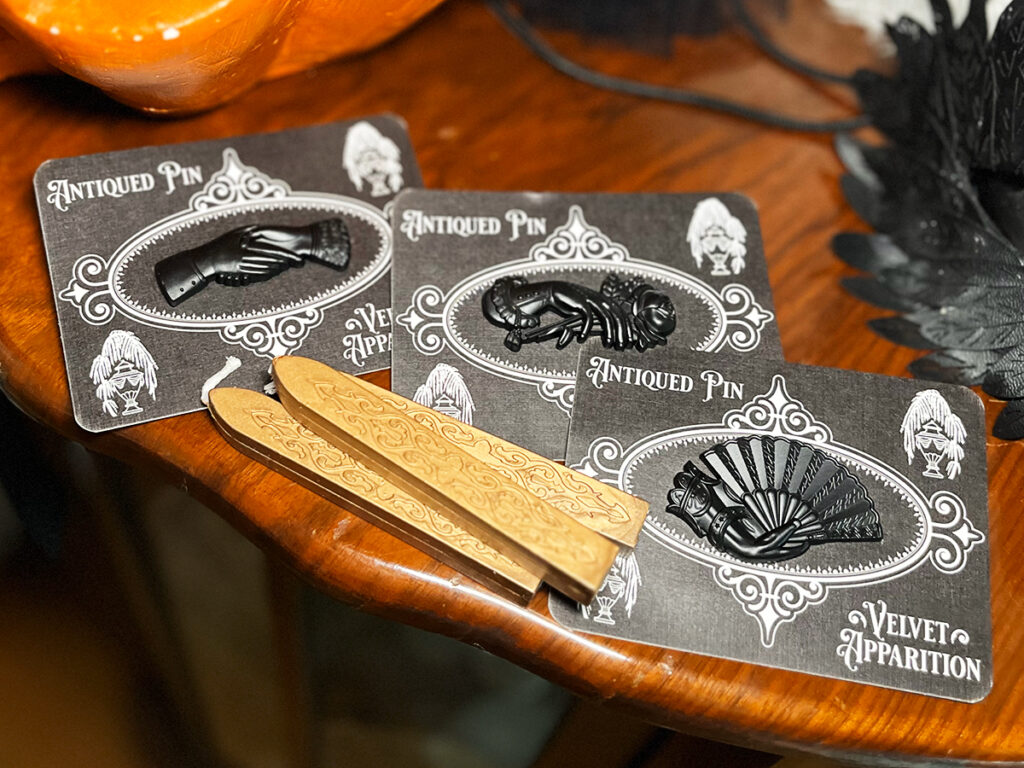 Christina's shop is another I'm a frequent shopper with. Half the fun of stopping by her booth is seeing how she styles it each year. She always sets up a beautiful display to show off her goods and it's well worth the visit. I had actually recently purchases a pair of antique Halloween nesting dolls from her about a month prior to Midsummer. In turn, I mostly perused around her booth to see what other antiques might catch my eye.
I did intend to purchase her three new stunning mourning hand pins. In addition, I also stocked up on more wax sticks to use with my custom seal. (Also custom made by Christina!) I'm very excited to make my mail more elegant and spooky this season! 😉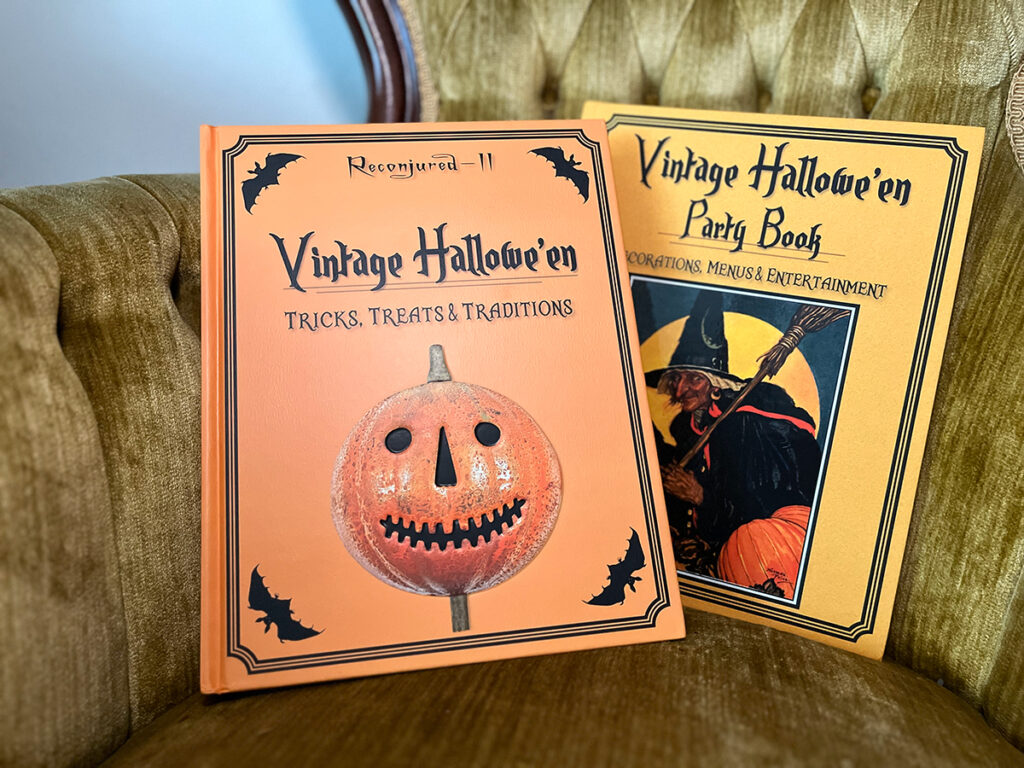 I have had my eye on their original "Vintage Hallowe'en" book for quite some time. Unfortunately, it's always been one of those booths that I'd plan to go back to but then didn't. Last year, they also released their "Vintage Hallowe'en Party" book, but my budget ran out before I located the booth.
These books were my official first purchase of Midsummer Scream 2023. I'm so excited to flip through them for Halloween season inspiration!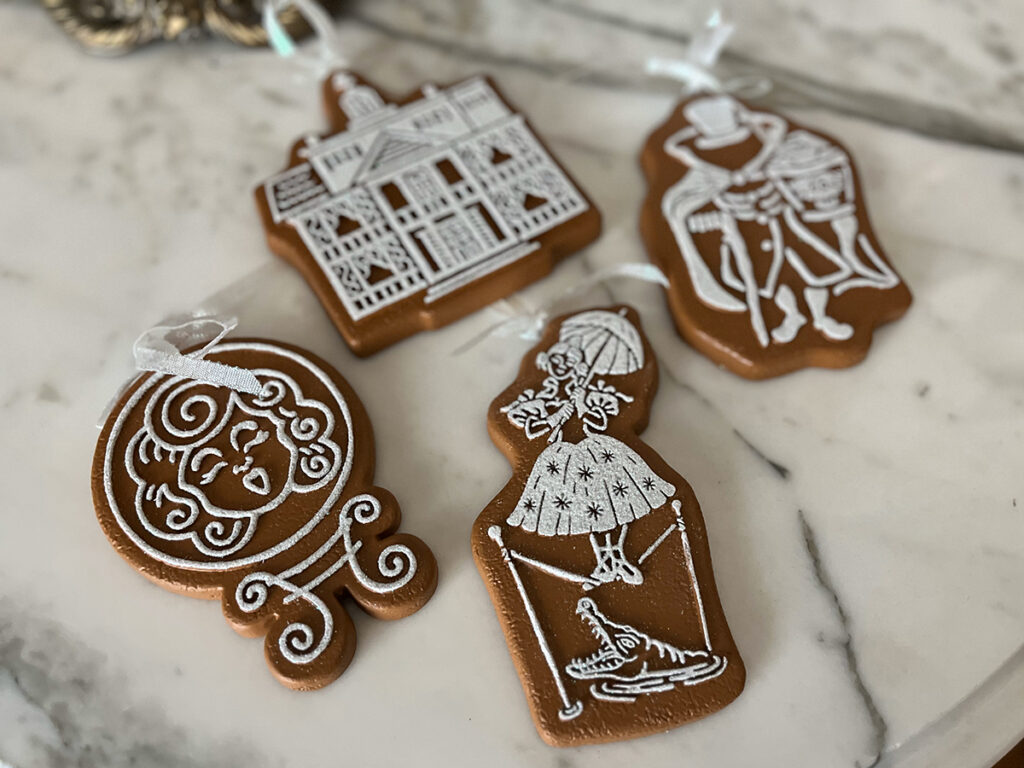 Nick is a sculptor, graphic artist, mask maker, and fan of all things retro. His wares tend to consist of a lot of Disney-inspired items, in particular, Haunted Mansion and the Enchanted Tiki Room. It was inevitable that his pieces would catch my eye.
The gingerbread Haunted Mansion cookie ornaments caught my eye last year and I greatly regretted not picking up a set. I was very pleased to discover him bringing them back. They will go so nicely with our Disneyland Christmas ornament collection!
Midsummer Scream 2023 Exhibitor Discoveries
While waiting for Twirly's performance, Vernon's work caught my husband's eye, who quickly called attention to me. The mirror print of Elvia as Cassandra's reflection pulled me in. However, when I saw the print of Elvira with a cocktail shaker, it had to be added to my collection. If I ever get around to having one, these prints will be showcased in my macabre boudoir some day. I also picked up his artbook. I LOVE me a pretty book of spooky prints and artbooks are almost always preferred over prints. For me, they are easily store AND display.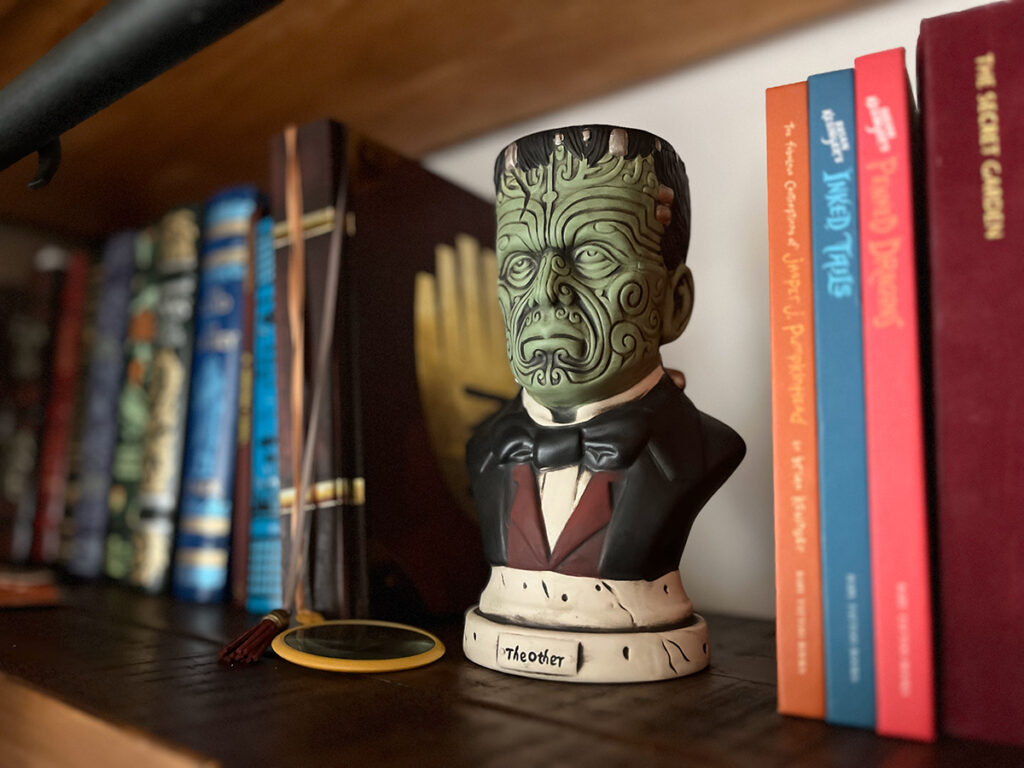 Obviously the beautiful tiki mugs full of macabre mirth drew my attention to Tom's booth. However, then my eyes wandered to the extremely fun prints of Creature and other tropical monsters. This dapper Frank came home to bless our library shelves and if you find him handsome, I highly recommend checking out all that is offered through BigToe.
This artist's work immediately captured my husband's and my hearts. Who could resist her beautiful buxom babes with the sweetest of spooky flare? He immediately purchased and wore her crybaby circus t-shirt and I insisted upon this huge and gorgeous La Muerte pin. It glows in the dark! We also got a couple of these adorable mothman stickers and now I think I need more of them. (My husband also treated himself to the swolgar keychain!)
Additional Exhibitors & Showfloor Thoughts
Shopping at Midsummer Scream can always be an overwhelming thing. No matter how many times you feel you have thoroughly explored the show floor, you still end up finding booths that you either missed or that didn't catch your attention the first time. Or, like me, you see your friends found some awesome things you KNOW you did not come across.
In case you can't read them in the image above, here are a few of the new exhibitors we collected cards from:
I feel that Midsummer Scream is overall very great at balancing who their exhibitors are on the show floor. Some vendors I did question their placement of some larger repeat exhibitors. I also felt this year leaned more on the side of artist creatives. Each section banner listed a different sponsor and I expected that individual exhibitor to be placed beneath it, but they weren't. I feel like doing this would help make things a little less chaotic when it comes to navigating. At least for someone like me, I am a landmark navigator. I would easily get turned around on the show floor because these things didn't quite match.
Shops I'd Like to See in the future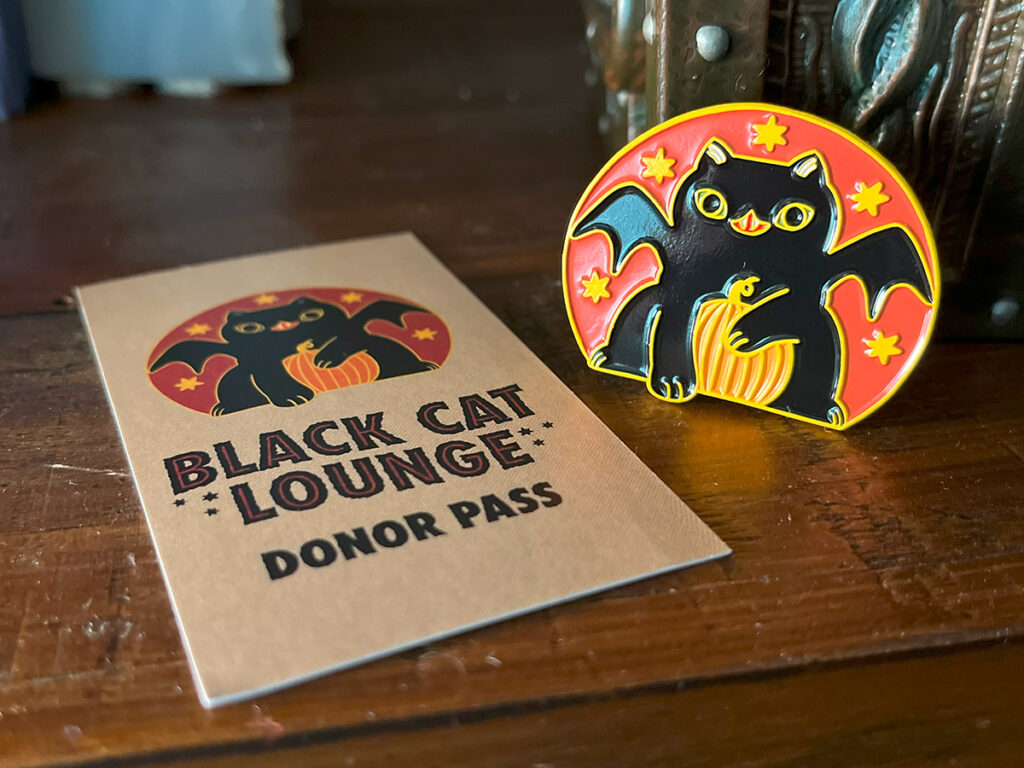 In regards to what could be found, I missed seeing more Halloween children authors like last year. In 2022, we found three adorable children's books to add to our Halloween library. Unfortunately, this year, I only came across one! (And I didn't go back to pick it up as intended! D: Punkin Shop, expect me to be haunting your online store soon for a couple punkin pixies and your book!)
I'm sure families with younger children are a smaller fraction of the targeted convention attendees who shop. However, it would be nice to see a couple more things geared towards families. (Of which, if you're looking for shops, I HIGHLY recommend both Mumsterville and Bun in the Coven!) It would also be lovely if those kinds of booths were located closer to Paranormal Pixie's pumpkin patch. Again, this is more of a personal triangulating thing, but I did love how the 2019 show floor was sectioned into themes.
How was your Midsummer Scream 2023 Haul?
All in all, it was still an amazing shopping extravaganza. I cannot wait to see what I discover next year. What treats did you trick from the exhibitors this year?