The final Halloween 2022 costume sneak eek, #4 is here! I feel that the clue should be insanely obvious at this point. However, the big reveal is next week if you still can't figure it out and I'm "busting" at the seams to show it off!
Isn't this custom patch just too fun? Thank you so much to AthenaBrands on Etsy for this perfect detail. As can be seen, it ties the whole look together and I couldn't be happier to show you this finished costume.
Why a Costume Sneek Eek?
Back when I was planning my Clue Carousal party, I had so much fun dropping party detail sneak peeks until invites went into the mail. This served as the inspiration for this feature. The idea behind my costume was unexpected, but all I needed was my husband to tell me I should do the thing. Here's hoping that you are as excited about my costume reveal as I am! It will be extremely entertaining to read all your guesses.
Lastly, don't forget to direct me towards your Halloween 2022 costume sneak eek! I always enjoy these kinds of games and would love to guess yours too!
Follow Along on the Countdown!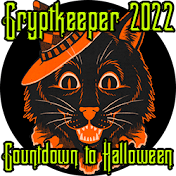 Check out all the awesome crypt keepers helping you count down to Halloween this year!