Nothing I've found in the big box stores for 2022 compares to my Smalloween Shopping haul featuring very amazing creatives. Honestly, the chain stores have been unimpressive, and I've put my money towards small businesses instead.
So what exactly is smalloween shopping? Miranda of Spooky Little Halloween started pushing the idea of supporting spooky small businesses in the early days of the pandemic. When shopping in person became challenging, she took to the world web and has curated an amazing collection of small businesses to haunt all year round.
Meanwhile, a favorite artist of mine, Rhode Montijo, popped onto Instagram stories to spread the message to try Smalloween shopping in 2022. Emphatically, I embraced the passions of both inspiring creatives by showing off my smalloween shopping haul. As can be seen, some of these names come from the Wall and Bookcase Decor Tour. Although I did a small feature on that post, I wanted to do a more complete list here.
Jewelry & Accessories
Home Decor & Fine Art
Books & Stationary
Shopping Smalloween Without Pressure
I think it is important to note that not all of these items were purchased recently. In truth, small businesses DON'T want you to break the bank to invest in them. If funds are tight, all these creatives are constant coming out with something new and special that when you're ready to buy something from them, you are very likely to find what you're hoping for.
Still on the hunt for more smalloween shopping? Then I cannot recommend Halloween Art and Travel Podcast enough. Kristen is so talented at finding beautifully original Halloween inspired pieces. Not only that, but she is a master of getting artists to dive deep in sharing their creative processes. No time for a podcast? Then you must head over to Shivers of Delight. As can be seen on her blog, Jorene has his great charisma that rivals her impressive Halloween art finds.
And so, I must know! What smalloween shopping did you do in 2022? In fact, I'm always looking to discover unique items to add to my collection.
Follow Along on the Countdown!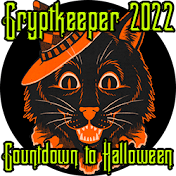 Check out all the awesome crypt keepers helping you count down to Halloween this year!