We entered the New Herb Moon on Tuesday, and so it is time to collect the ingredients to introduce the Herb Moon Cocktail! The upcoming full moon occurs on July 13th. Hopefully this gives interested mixologists enough time to collect the ingredients.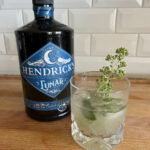 Print Recipe
Herb Moon Cocktail
Equipment
Cocktail shaker

Jigger

Juicer

Muddler

Knife

Lowball glass

Cube ice tray

Mesh strainer
Ingredients
2

oz

Hendrick's Lunar Gin

1

whole

Lime

~¾ oz lime juice

½

oz

Simple syrup

2-3

slices

Cucumber

2

sprigs

Thyme

2

sprig

Rosemary

2

sprig

Mint

2

sprig

Basil

1

sprig

Flowering herb

I used thyme
Instructions
De-stem one sprig of each herb then add to ice cube tray

Top tray with water then place in freezer for three+ hours

Add one sprig of each herb and cucumber slices to cocktail shaker

Muddle lightly, then fill shaker with ice

Add gin, lime juice and simple syrup to shaker

Remove ice cubes from freezer and add to glass

Double strain mix from shaker into glass

Garnish with flowering herb sprig
Notes
For a non-alcoholic version, replace the gin with sparkling water (lime flavor encouraged). Top off after adding everything to glass instead of adding to shaker.
I'm sure some of you may be wondering, "why Herb Moon instead of Buck Moon"? Much like I opted for another full moon name for the Honey Moon last month, an herb moon felt much easier to plan a cocktail around versus a buck moon. I've been dying to do an herb-heavy cocktail.
I am addicted to herb-flavored cocktails. And it helps that we have a load of herbs my mom planted in our yard. As we entered the Summer solstice, I noticed that our plants did in fact, go wild and grow in abundance. Even some of our herbs that were presumed dead have risen from the grown renewed. It's rather neat!
Fresh Herbs for Your Herb Moon Cocktail
You do not need to have a huge selection of herbs growing in your back yard to bring this cocktail to life, but I do strongly encourage purchasing fresh herbs. Dried herbs from your cupboard aren't going to cut it to make this cocktail really shine.
You can find all of these herbs in the produce section of your favorite grocery store or support your local farmers by checking out a farmer's market. (Most open in late May so you should be able to locate one near you!) The stores will have these available in little plastic clamshells precut into sprigs. However, if you're feeling like it, you can also purchase some herb plants and start your own mini window herb garden! I love fresh herbs in cooking too, so it's not a terrible idea.
If you can, locate one of your favorite herbs in a flowering state to use as garnish. Most herbs' flavor becomes more mild as they flower, but it definitely adds to the presentation of the cocktail. Our thyme was flowering, which is what I used.
Will you be giving the herb moon cocktail a try? Be sure to tell me what your thoughts on it!