We entered the New Honey Moon yesterday, and so it is time to collect the ingredients to introduce the Honey Moon Cocktail! The full Honey moon occurs on June 14th. Hopefully this gives interested mixologists enough time to collect the ingredients.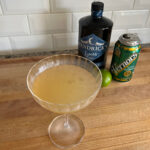 Print Recipe
Honey Moon Cocktail
Equipment
Cocktail shaker

Jigger

Juicer

Martini / Coupe Glass
Ingredients
2

oz

Hendrick's Lunar Gin

1

oz

Honey simple syrup

one part water to one part honey, dissolved honey then simmered for 5 minutes is how I made mine.

1

whole

Lime

~¾ oz lime juice

1

oz

Ginger ale

1

sprig

Rosemary

for garnish
Instructions
Chill glass in freezer while mixing your cocktail

Add gin, honey syrup & lime juice into cocktail shaker

Remove glass from freezer

Strain ingredients from cocktail shaker into glass

Top to taste with ginger ale

Slap sprig of rosemary to release essence then add to glass for garnish
Notes
Ginger beer can be substituted for ginger ale if you desire a stronger ginger flavor.
I'm sure some of you may be wondering, "why Honey Moon instead of Strawberry Moon"? While Strawberry Moon is more traditional, each full moon can have different names depending on your location. Plus…confession time. I'm not a huge strawberry fan. I mean, I enjoy the fruit, but I just don't like it as an added flavor in things. In addition to that, both the pink moon and flower moon cocktails were varying shades of red. I wanted to this as an excuse to experiment with flavors and colors I hadn't yet jumped into.
Honey is such a nice flavor and very fun to use a sweetener in place of sugar or fruit. One can use straight up honey, but sometimes, it does not mix as well as diluting it into a simple syrup solution, which is what I opted to do. It is also an interesting natural sweetener that does a magical job bringing out unexpected flavors when mixed with other natural ingredients like ginger and rosemary.
Speaking of the rosemary. I have an editor's flub to share. You'll notice in the video and the photos that there is no rosemary represented. >.<;; I completely forgot about it when making the video, but as I was trying to get this posted at a reasonable time, I will have to go back later to redo the video and pictures. Oops!
Will you be giving the honey moon cocktail a try? Be sure to tell me what your thoughts were on it!
A Brief Note on Making Simple Syrups
In my cocktail experiments, I have found that making my own simple syrups has been so easy and much less complicated than one might think. My favorite method is to follow a 1:1 ratio for water to sugar (or in this case, honey) and then another equal part for the added flavor such as blueberries, etc. This will change if you're making an herb or spiced based syrup, where ¼ of a cup or less will be more than enough to make the flavors come through in your syrup.
Dissolve your sweetener over medium-high heat then simmer on a medium-low heat for 3-5 minutes. Let it cool then store it in the fridge for up to two weeks. I like using mini mason jars as I tend to make smaller batches of syrups so they don't go to waste. My favorite measurement to start with is ½ cup : ½ cup which tends to be the perfect amount to do some experiments with and then make your final cocktail a couple more times. I can get about 4-6 cocktails from the ½ cup ratio simple syrup mixture.