Usually, I put all my favorite musical finds of the season in my 13 Spooky Music Video playlist, but this song was so amazing, it deserved its' own post!
If you've not yet had the pleasure of listening to Nancy Nightmare and the Wizard's 31 Days of Halloween, you should stop what you're doing and hit that play button now. It's ok. I'll wait.
What isn't there to say about 31 Days of Halloween? Nancy and the Wiz captured the spirit of the season perfectly in this carol to Halloween. The beat is fun, the lyrics are catchy and they even shout out the Christmas people who tend to irritate the obsessed Halloween person.
I'm not trying to be a crazy fangirl, but seriously! How many Halloween songs do you know that represent the whole Halloween season? Yeah, I thought so.
Think that the name Nancy Nightmare and the Wizard sound familiar? You'd be right. I got to go to one of their live shows last year and did some video coverage of their set. This year they're going to be the closing act for Bewitched Burlesque presented by Untamed Babes Burlesque on October 13th. I wish we could attend, but alas, it's an 18+ event and my little monster is still too young for me to do an overnight without her.
Be sure to check out the band's event page for more information if you're interested in seeing them live. I highly recommend it! Getting to see them perform last year was so worth the trip and I've been dying for an excuse to see them perform again this year, but I just haven't been able to make the dates.
I digress. I feel confident this song is going to make your permanent Halloween playlist! I hope you enjoy it just as much as I have been!
---
A part of the Cryptkeeper Countdown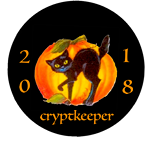 Also love celebrating a little Halloween everyday through the month of October? Come join me and hundreds of other amazing Halloween bloggers! There's a little something for everyone.