This wall and bookcase have been such a joy to put together this year. There's still something off that I can't quite put my finger on. However, for this year, it will do!
This wall contains a mishmash of things collected from some of my favorite spooky small businesses as well as some vintage Halloween signage I've collected from the big box stores. I'll get into those businesses more in a later post, but these selections include Shrieks and Eeks, Rhode Montijo, Matthew Woods, LittleGhosttCo, and Halloween Hill Studios.
Bridging this wall to the rest of our living space is the doorway festooned with a foil door streamer, spider and tissue paper fans. The little spider was an adorable find from Target and he's beyond cute. Framing the doorway on the floor is a little reading nook on one side and our Halloween book selection on the other. Thanks to Midsummer Scream, we got to add a couple new books to our collection in addition to the illustrated Hocus Pocus novel from Gris Grimly.
From the wall, we move this tour on to the bookcase. At it's base are autumnal activities for the littles. Following about this is a collection of what I've bought over the years. Unfortunately, I still haven't quite figured out how to display these items cohesively in my theme. The shelf above is with a combination of film memorabilia. Meanwhile, the one above this contains countdown counters, random signs and little figurines. Although these things don't all quite fit in, I am unwilling to part from them yet. Lastly, the top of bookcase has been graced with our Haunted Mansion mug collection.
As you may have guessed, the wall and the bookcase contain the bulk of my decor. Of which the majority are small trinkets and film collectibles. I hope to one day fabricate a display museum of sorts. The idea is to feel as if the owner of the home was part of these supernatural adventures. Items on display acting as souvenirs, if you will. For now, it is just a someday dream and the set up today is sufficient.
How are your decor dream plans coming along?
Follow Along on the Countdown!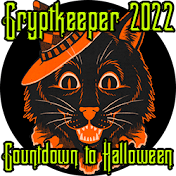 Check out all the awesome crypt keepers helping you count down to Halloween this year!