I am going to be on my Halloween wine game this year! Just you watch! I've bought my wine, have cute Halloween wine pourers to complement each bottle and they're at the ready to be tasted. Today for your tasting pleasure, we are trying a label I've tasted during a previous Halloween season, but a different varietal. Sit back and enjoy my tasting notes on…
Elvira's Macabrenet
A little about the wine makers:
Sort This Out Cellars is a small production boutique winery. They make limited runs of any wine they produce, making each bottle a treasure. They only sell their wines through their tasting room or their website, making their wines very sought after for themed collectors. Their tasting room has a fun, laidback feel and also is home to a tiki bar in the recent years! It's a shame they no longer produce Elvira's Macabrenet, but that doesn't mean they've abandoned their Halloween spirit! This year, they released a pair of Hallowines under their Bettie Page label; a Sauvingnon Blanc, called "The Bride" and a red Tuscan blend called "Witching Hour".
---
A part of the Cryptkeeper Countdown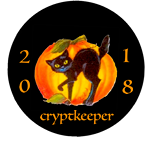 Also love celebrating a little Halloween everyday through the month of October? Come join me and hundreds of other amazing Halloween bloggers! There's a little something for everyone.