We enter the New Moon on October 25th, and so it is time to collect the ingredients to introduce the Frost Moon Cocktail! The upcoming full moon occurs on November 8th. Hopefully this gives interested mixologists enough time to collect the ingredients.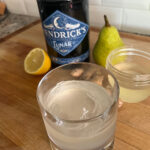 Print Recipe
Frost Moon Cocktail
Equipment
Cocktail shaker

Jigger

Lowball cocktail glass

Ice ball mold
Instructions
Prepare hollow ice ball prior to mixing. Freeze for 1 ½ – 2 hours then puncture a hole and drain water inside. Make hole large enough to pour cocktail into from shaker. Keep frozen until ready to serve.

Fill cocktail shaker with ice.

Add gin, lemon and syrup to cocktail shaker.

Add ice ball to lowball glass.

Strain mix from cocktail shaker into ice ball in glass.
Notes
If making a hollow ice ball is too complicated, prepare a tray of snowflake ice cubes and fill your cocktail glass with that instead.
To Make Pear Ginger Simple Syrup
Add ½ cup pear, 6-8 thin slices of ginger, ½ cup sugar and ½ cup water to pot over high heat and stir until sugar dissolves. Simmer on medium-low heat for 10 minutes.
Although this cocktail is intended for next month's Full Moon, I felt it would be perfectly appropriate for representing the Beast. In addition to that, he serves as additional inspiration behind its creation.
Even though Over the Garden Wall takes place during the throws of Halloween and gives an overall Autumn vibe, when the Beast is present, the environment seems to become colder, much like Winter. When Greg is collecting items for the Beast, it begins to snow. Some places can get a frost as early as October, so this all makes sense in my mind.
Pears and Ginger for the Frost Moon?
Pears always feel underappreciated when it comes to flavor. They can be very sweet when ripe or be rather flavorless when eaten too soon. I wanted colorless flavors for the frost moon cocktail that also had an Autumnal vibe to them. When looking up what might work, pears and ginger were viable possibilities. I wasn't sure how they would go together, but I think it makes a rather beautiful blend. The ginger offsets the sweet of the pear, while the pear cools the spice of the ginger. The drink is ever so slightly golden, that it feels that the frost has frozen a moment of Fall in time.
Will you be giving the frost moon cocktail a try? Be sure to tell me what your thoughts on it!
Follow Along on the Countdown!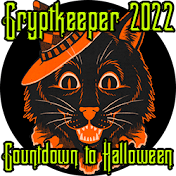 Check out all the awesome crypt keepers helping you count down to Halloween this year!