I've gushed about LittleGhosttCo and her beautiful artwork before, but did you know I tried cosplaying as her rendition of the Beast from "Over the Garden Wall"?
Dressing my family as a full "Over the Garden Wall" set is a someday goal. I've dressed my littles as Wirt and Greg dashing about in an Autumnal forest. In tandem, I threw together the Beast during Christmastime that was a direct inspiration form LittleGhosttCo.
Dressing as the Beast was really fun. I've never had the chance to dress as a truly dark and malevolent character like that before. It's a very empowering look to don, much like Elvira. Yet the vibe is different. I feel like I get to make people suspect I'm up to no good and it came off so well.
I was really hoping to get some new photos taken of this look done this year. Unfortunately, life is a thing, so it didn't pan out. Fortunately, I still have photos of this look from last winter and I'm excited to finally show those off!
Is there any character from "Over the Garden Wall" you would dress up as?
Follow Along on the Countdown!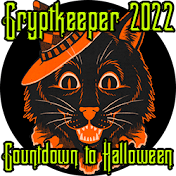 Check out all the awesome crypt keepers helping you count down to Halloween this year!