These ghost lollipop décor treats may not be a "vintage" recipe like the Midnight Cake was, but they stem from my childhood and I think that counts enough. Whenever I think of my Halloweens of youth, these adorable ghost lollis come to mind. I bet that I'm not the only one either!
As a young mother of the 80's, it was always important to my mom that Halloween was something she got to enjoy with her children. For the first time, she found herself with the freedom to decorate to her heart's content. However, as a young mom, she and my father really didn't have the money to spend on such luxuries. That didn't stop her spooky spirit! She would make these little ghosts not just as a treat for us, but as something to decorate our home.
Personally, I LOVE the duality of any holiday décor, especially if it's edible. However, it's the sentimentality that makes me love these ghost treats so.
Ghost Lollipops Shopping List
What's really great about this project is that outside of the lollipops, everything can be made with stuff lying around. My mom used to make these with Kleenex tissues, but eventually upgraded to fabric squares since the faces kept better that way.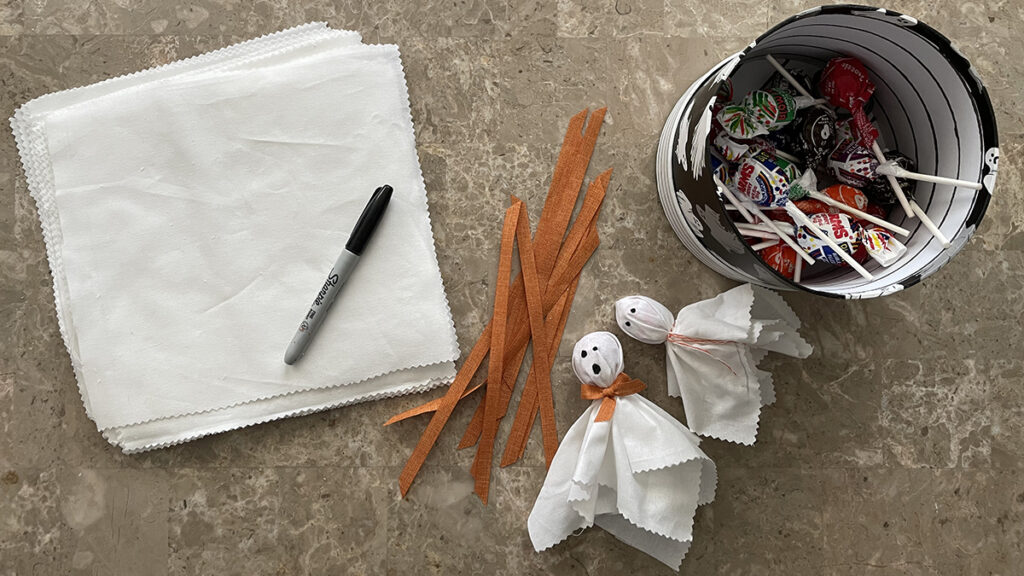 You will need…
(Tootsie Pops were my mom's choice, but Blow Pops work too, or if you're doing on a smaller scale, you can also use Dum Dums.)
(you can do smaller squares if you're using DumDums. I like the floof you get with a 9″ square over a Tootsie Pop)
Ribbon (fabric or curling) / string / twine
Sharpie marker
As you can see, all of these items can have a variety of options. Your choices for this treat are completely reliant on your personal preferences.
Assembling the Ghost Lollipops
A simple treat equals simple assembly. There is a chance you will need to cut out your fabric squares (I recommend using pinking shears for an easy finish), but if you are using tissues or were able to buy your squares precut, you can jump right in!
Place your fabric square over your lollipop as centered as possible.
Pinch the fabric around the lollipop stick.
Knot the ribbon around the gathered fabric, then finish with a bow or curl the ribbon.
Use a sharpie to draw the face.
How to Display Your Treats
I find your finished ghosts will compliment vintage themes very nicely due to their handmade qualities. You can get very creative with your ghosts and put them just about anywhere.
Some ideas include hanging them from your Halloween Tree, arranging them cutely in a candy dish or short vase, having them float from your ceiling with some fishing wire, turning them into a reimagined version of bobbing for apples or even using them as table scatters on a party table with a black or orange table cloth.
A Warning for Pet Parents
I highly recommend displaying your lollipop ghosts somewhere out of reach of your furry friends. Please keep this in mind if you are using tootsie pops or any lollipop that contains chocolate because chocolate is poisonous to animals.
Enjoying Your Ghost Lollipop Décor Treats
Naturally, the best part of this treat is getting to enjoy it. Simply remove the ribbon and fabric to enjoy! I hope you enjoyed this mini romp down my childhood memories. However, that leaves me dying to know if you ever had ghost lollipops made in your youth. Let me know!
---
The Countdown continues with Nineteen Days until Halloween!
If you enjoyed this post, I highly recommend you check out my fellow cryptkeepers.
We are a vast selection of content creators who have treat pails loaded full of goodies to unwrap!