I love earrings. They're always such an easy grab-and-go kind of accessory and they can be very simple or super elaborate. My Halloween earring collection is no joke and at this point, I have more pairs of Halloween earrings than there are days in October!
In fact, I may actually have a Halloween addition problem. Putting together my collection to take a photo, I realized I have 45 pairs of earrings I can wear (I found a couple more after taking the photo you see)! And yet, I'm always on the search for more. There must be something wrong with me.
Like one of my many Halloween traditions, I tend to purchase one or two new pairs of earrings every year. I can't help it. There's always a new pair to discover that just happens to be too cute to pass up! My first pairs for the season were both snake themed from Elvira's new jewelry collection by Sweet Romance. I love the snake wrapping around the crystals, but it's hard not to be completely enamored with the slithering snakes inspired off of Elvira's classic look. I wear these quite often and they have become part of my everyday ware alongside the matching necklace pieces.
It's not Halloween for me without adding a pair of spider earrings to my collection. Last year, I added five pairs! This year, I found this irresistible pair with a purple fluffy abdomen. Isn't it just too cute for words? The best part? Only $3 at Walmart!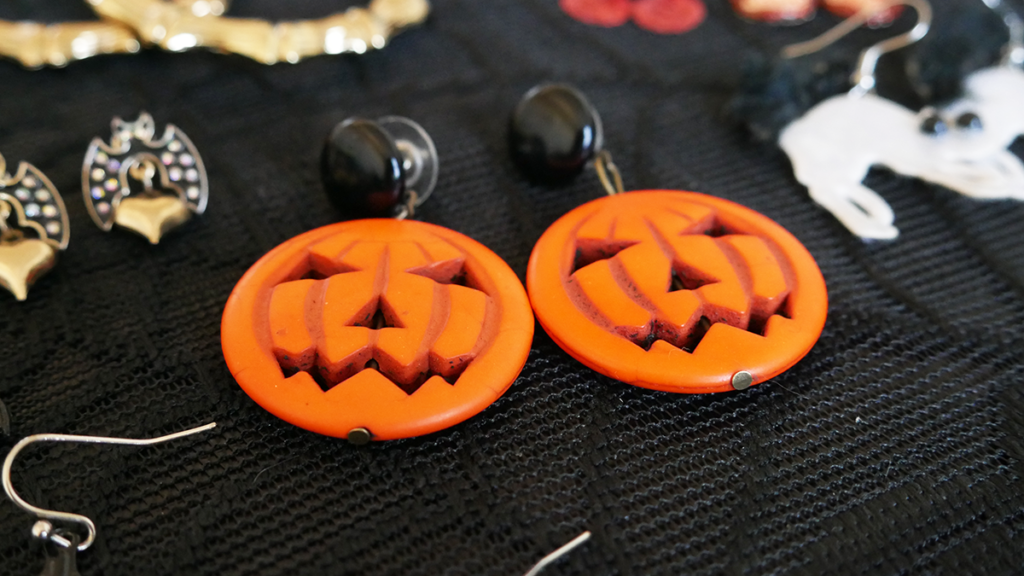 And last, but not the least are these Jack-o'-Lantern earring by Luxulite that I bought from Sourpuss Clothing. They are so much fun and really fit with a lot of my Halloween wardrobe.
---
What is your favorite thing to accessorize with throughout the Halloween season?