Come have a Drink with the Sips & Spirits podcast! My husband and I started our podcast this August for those that love spirits of both the alcoholic and spectral kinds. We drink assorted cocktails infused with a spooky-themed liquor and share a scary story or two. We try to keep our episodes between 30-45 minutes and release a new episode every other week.
Our third episode just dropped today! We have a lot of fun with it and want to invite you to give us a listen.
Sips & Spirits Podcast Origins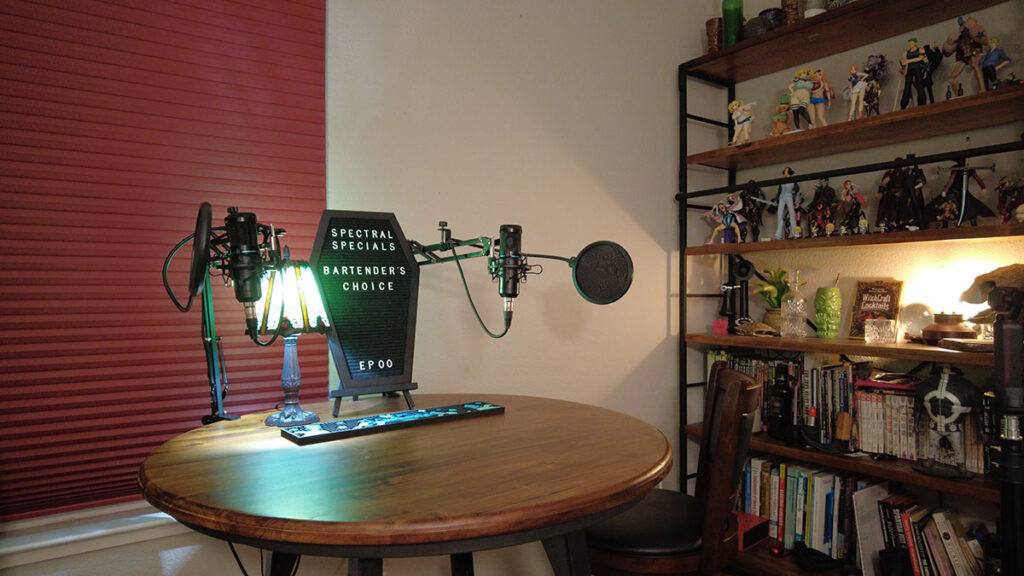 I must give credit to Erick for this very fun endeavor we've set out on. I never planned to start a podcast. It's never really been a thing on my radar. However, Erick dropped this really fun concept to find liquors with a spooky theme and pair it with a complementing story. Drinking and scary stories as an in-home date night? How could I resist?
Cleary, the idea grew from there and now, here we are. We finished recording our 10th episode in September and cannot wait to jump start on new ideas to introduce to the podcast INCLUDING a virtual party coming January 2022!
Sips & Spirits Podcast on Social Media
We also share even more fun on our Instagram and TikTok under the handle @sipsnspirits. We run around on silly shenanigans in ghost sheets on the weeks opposite of our podcast episodes. I'd have to say there's some pretty hilarious gems to be found, but I think our romp through Spirit Halloween is quite appropriate for the season.
Have you let Sips & Spirits haunt your headphones yet? Let me know what you think of it so far! If not, come, raise your glass and have a drink with us on the Sips & Spirits podcast!
---
The Countdown continues with Twenty-three Days until Halloween!
If you enjoyed this post, I highly recommend you check out my fellow cryptkeepers.
We are a vast selection of content creators who have treat pails loaded full of goodies to unwrap!