There isn't much to say about my pumpkins and tissue paper garlands which have graced my ceiling for the last couple years. They give a super vintage vibe, complete the room and make my spooky heart gleam.
These pumpkins and garlands will continue to get as much love as they will last. The paper garlands came from the Beistle Company via Amazon two years ago. The pumpkin pails; from Target. Although the idea remains the same, the outcome has changed quite a bit from my original execution. The remote-controlled puck lights are a new addition I am obsessed with. Forthwith, I don't have to climb up a ladder to add/remove the light effect. Plus, the puck lights are rechargeable, meaning no more battery runs! At least for the puck lights. Now to get the rest of my decor off batteries… Extra bonus is that I can enjoy it more than just for photographing for the blog and on Halloween night!
Is there an unusual space you decorate that most people don't think about adding decor to?
Follow Along on the Countdown!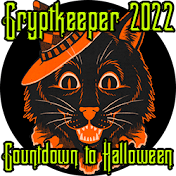 Check out all the awesome crypt keepers helping you count down to Halloween this year!