It has been a real pleasure to grow our family Halloween traditions to the point that they now fill up an entire shelf! This shelf represents five years of traditions in the making; blending our family practices into something that is uniquely ours.
From starting the Halloween Tree tradition to painting new pumpkins to place in the patch, our traditions shelf has been a true work of love. These might be my favorite pieces to put out for Halloween the last few years. There is so much sentimental value behind them and they bring a smile to my face.
Next week, I'll be breaking down each of them, both old and new. Hopefully, there will be a little something that you can take and use for yourself. I'll be kicking it off with something completely new to our practices this year. Then, I'll wrap it up with something Erick and I have been doing long before Monster and Boo came along.
Are your Halloween traditions something you put on display or is it more something you do?
Follow Along on the Countdown!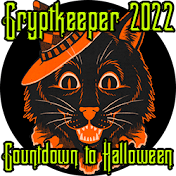 Check out all the awesome crypt keepers helping you count down to Halloween this year!