I am going to be on my Halloween wine game this year! Just you watch! I've bought my wine, have cute Halloween wine pourers and they're at the ready to be tasted. Today for your tasting pleasure, we are trying a label I've tasted during a previous Halloween season, but a different varietal. Sit back and enjoy my tasting notes on…
Pinot Grigio
A little about the wine makers:
I actually had trouble finding any information about the wine making team behind this wine. They reference their website and facebook page on their bottle, but not much is shared. Their facebook was last updated in 2016 and their website was last updated in 2015 (and boy does it show). Their wine list doesn't even have the pinot grigio as one of their bottle options. They may not keep their social networks up to date, but they still seem to be releasing wines, so there is that.
---
A part of the Cryptkeeper Countdown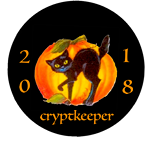 Also love celebrating a little Halloween everyday through the month of October? Come join me and hundreds of other amazing Halloween bloggers! There's a little something for everyone.