I feel like I fully took advantage of my Dell'Osso season pass this season and I did promise you I would return. Since I shared my last experience at the beginning of the month, I got to visit Dell'Osso an additional two times!
Our second trip, we brought Little Monster's walking cart, which made for some pretty awesome photo opps. We even stopped by the corn crib once more and rode the hay ride.
Our third visit was a second go with Papi, but we also went through the mazes again with my parents and sister, where our little cutie fell asleep early on n the first maze. We also picked up a little pumpkin for a sensory activity I've been wanting to do with the Little Monster since October began. Hopefully we'll get to it today!
I'm excited and determined to experience their winter season this year! I've not yet had the pleasure and if it's as fun as the October season is, there is a lot to be excited over.
Do you have a go-to farm you visit during October or do you like to explore your options?
---
A part of the Cryptkeeper Countdown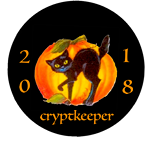 Also love celebrating a little Halloween everyday through the month of October? Come join me and hundreds of other amazing Halloween bloggers! There's a little something for everyone.