This was a hard playlist to compile! Well, I mean, it was a challenge because I was looking for non-screamo/metal/ heavy rock songs. If you look in those genres, your list doubles rather quickly. However, for a list of easier listening music, this was a challenge for me. I got a lot of inspiration from last year's release of IT and this year's release of Castle Rock that I thought it would be fun to put together a playlist where the music videos were based off of Stephen King's horror novels. For you, I found six different ones that are obvious in their Stephen King inspiration.
Pet Semetary – The Plain White T's (Formally performed by The Ramones)
This song should need no explaination, but in case you're not familiar with King's works, Pet Semetary is one of his popular novels and this song was written for the purpose of being featured in the original film. I could have and should have included the original video performed by the Ramones, however, I couldn't find the video on offical channels so I opted not to include it here. Between you and me, the Ramones video is far more of a themed video whereas the Plain White T's video is mostly clips from Frankenweenie.
Please Don't Leave Me – P!nk
Taking inspiration from King's novel, Misery, P!ink injures her lover who is planning to leave her and keeps him under house arrest while physically and mentally abusing him. Of all the artists to pull off this video idea, P!nk was the right one to make the choice and if you loved this song before, you might not look at it the same way anymore.
The Kill (Bury Me) – Thirty Seconds to Mars
Inspired by what many consider one of the most frightening films ever, Thirty Seconds to Mars' makes their video an almost a perfect shorter replica of The Shining. The Kill makes a visually stunning mini film with loads of references to the whole film. It might not scare your pants off, but it will certainly haunt you.
Christine – John Carpenter
A very bizarre video which follows the evening drive of the evil vehicle which goes by the name of the video. I've never seen Christine, but fun fact; this music video and the original film are directed by the same person and I love me some John Carpenter. This video makes me feel like I need to watch the film to understand what just happened.
Candy – Frankie Rose and the Outs
This video steals its inspirations from the famous prom scene in Carrie. I've seen quite a few different renditions of this story and to be honest, it's never sat well with me and bugs me a little how much people seem to be attracted to it. But then again, it feels like a lot of King's novels are based in towns where there's something wrong with all the people in it and there really aren't any goodies to balance things out.
Two Black Cadillacs – Carrie Underwood
Country music and revenge themes feel like they're made for each other and this video takes an unexpected turn with obvious inspiration from King's Christine.
Do you know of any music videos inspired by Stephen King novels or movies? I would love if you shared it in the comments below!
---
A part of the Cryptkeeper Countdown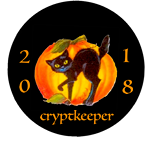 Also love celebrating a little Halloween everyday through the month of October? Come join me and hundreds of other amazing Halloween bloggers! There's a little something for everyone.