I am kicking off my Halloween 2022 countdown with a costume sneak eek! That's right. Look forward to a new sneak (p)eek of what my Halloween costume will be every Saturday leading up to Halloween.
The bets are on! All things considered; you should know that this costume is not quite what you think it will be.
Evidently, what is most exciting for me is getting a chance to focus on the tiny details of my costume. Occasionally, I forget to take that picture of the little touches I put into my looks. This is my excuse to capture them all!
Back when I was planning my Clue Carousal party, I had so much fun dropping party detail sneak peeks until invites went into the mail. This served as the inspiration for this feature. The idea behind my costume was unexpected, but all I needed was my husband to tell me I should do the thing. Here's hoping that you are as excited about my costume reveal as I am! It will be extremely entertaining to read all your guesses.
In like manner, are you sharing a Halloween 2022 costume sneak eek as well? I always enjoy these kinds of games and would love to guess yours too!
Follow Along on the Countdown!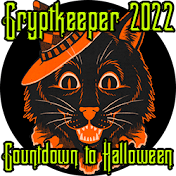 Check out all the awesome crypt keepers helping you count down to Halloween this year!