We enter the New Moon on January 21st, and so it is time to collect the ingredients to introduce the Snow Moon Cocktail! The upcoming full moon occurs on February 5th. Hopefully this gives interested mixologists enough time to collect the ingredients.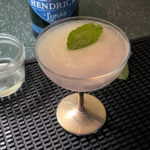 Print Recipe
Snow Moon Cocktail
Equipment
Jigger

Blender

Coupe / Martini glass
Instructions
Freeze limeade in ice cube tray at least 3-6 hours before making cocktail

Add limeade cubes, gin and syrup into blender

Pour mix from blender into glass

Garnish with single mint leaf
I don't usually go for blended drinks. Typically, there's too much ice that waters down the cocktail once it starts to melt. However, I really wanted the snow moon cocktail to reflect those mounds of snow without relying on a complicated egg white technique. Blended seemed like the perfect way to go!
How did the Snow Moon cocktail work out?
This cocktail went through a LOT of heartache with trying to master it. I wanted it to have the white color. My initial thought was to try to blend with a vanilla ice cream. However, I struggled with the balance of the creaminess with the herb base of the gin. Adding lime didn't help to blend them and lemon made it even worse. While grocery shopping, I was hit with the inspiration of freezing a clear/white juice into cubes for blending. A debate between a lychee juice and limeade began and I decided to go with the limeade for ingredient availability.
I wanted to work in mint for it's chilly flavor on the palate. The limeade tied that perfectly in with the gin. The rest fell right into place.
Will you be giving the snow moon cocktail a try? Be sure to tell me what your thoughts on it!