On a quest for family friendly spooky tv for my little ones, I discovered there is a lot out there that families of all ages can enjoy! Don't get me wrong, the Halloween classics are always fun (you know which ones I'm talking about). And yet, I know I sometimes have a hankering for something completely different. Families are sure love the following list I've put together. Hopefully, there's something new here that becomes a favorite in your household too!
Spooky TV Shows & Movies for the Family
* These selections were initially watched before my children were born.
Costume Quest
Available to stream on Amazon Prime
We discovered this gem when randomly searching Prime's offerings for children. It is a ball from the moment it starts. Set off on a costumed quest with four friends who use the power of their imaginations (and a little magic) to bring their costumes to life in order to fend off the Grubbin invasion.
The Ghost & Molly McGee
Available to stream on Disney+
I love how Molly moves into this new house and befriends the ghost haunting it, much to his dismay. The intro is super catchy, and the animation is pleasant with humor adults and kids alike can appreciate.
Hilda
Available to stream on Netflix
Discover Hilda's enchanted world full of amazing creatures, trolls, magical librarians and hidden realms. I first watched this when I was pregnant with Little Monster. Since then, it has become a favorite to watch before bedtime or as a calm-down before nap.
Igor *
Available to stream on Amazon Prime
I've always had a soft spot for this animated feature. Igor takes on the roll of Frankenstein to create a monster to submit into an evil scientist competition. His monster, however, wants to become an actress and hilarity ensues. There's a great voice cast complete with interesting animation style and a very unique world.
Maya and the Three
Available to stream on Netflix
Perfect for families wanting to embrace their Latin American cultures. We LOVE Maya and the Three. Maya learns that she is part of an amazing prophecy and sets off on a journey to stop the wrath of vengeful gods. Coming from the same world as the Book of Life, you do NOT want to miss this one.
Monster House *
Available to stream on Netflix
Kicking off with two kids and their "get off my lawn" neighbor. As he is hauled off in an ambulance, they discover there may be more to his warning. The perfect gateway children's horror film. I feel this one is great for introducing your little ones to the scarier side of movies without being too much.
A Monster in Paris *
Available to stream on Tubi
The music in this comes from Vanessa Pardee, M and Sean Lennon (son of the late Beatle, John Lennon). A beautiful story about a flea who is turned supersize with an amazing voice. The kids love watching this and I adore the message of loving something beyond its appearance.
The Owl House
Available to stream on Disney+
What isn't there to love about sassy Eda and her magical Owl House? Eda is a fugitive owl witch who crosses paths with the human, Luz, trying to ditch her boring summer camp. The kids adore King (a voice Gravity Falls fans will recognize) and I cannot get over Eda's macabre humor. Also, I love the diverse characters, relationships and familial situations represented in this show. I never hear anyone talk about it and it deserves the love.
Over the Garden Wall *
Available to stream on Hulu and HBO Max
I can't resist bringing up Over the Garden Wall when it comes to Halloween must-watches. This is the most watched show on our list and for good reason. Over the Garden wall follows two brothers lost in the woods with all the Autumnal vibes your heart could desire. Each episode is under 10 minutes. Which makes for a quick watch over an evening or throughout the week with an episode a day.
Secret Magic Control Agency
Available to stream on Netflix
Cute and simple, this one is frequently asked for by my four-year-old. This is the tale of grown-up and grown apart Hansel and Gretel. They are forced to team up to rescue the king from a want-to-be sweets witch, Elvira.
Song of the Sea
Available to rent everywhere
(or triple down to own with the Cartoon Saloon Irish Folklore Trilogy)
I meant to only include films that were available to stream. This was when I compiled my Montessori shows list in February. However, since it is the one film that inspired me to make this list, I couldn't bring myself to omit it.
This is THE Halloween watch from this list, in my opinion. Taking place in Ireland on Halloween Night, join Ben and Saoirse (pronounced Sear-shah) on a journey encountering Irish folklore beasties. Sensitive parents, get your tissues ready. Cartoon Saloon never fails to bring the touching and bittersweet moments all at the same time.
Super Monsters
Available to stream on Netflix
Ok, I will admit, this one is a bit more for the kids and less for the adults. However, the lessons learned within the episodes are worth the kiddish vibes. Perfect for preschool and kindergarten-aged kiddos, there's a catchy intro tune with loads of Halloween specials and spooky fun. Wonderful for keeping the littles distracted while you decorate.
Wolfwalkers
Available to stream on Apple TV+
(or triple down to own with the Cartoon Saloon Irish Folklore Trilogy)
If you didn't guess, we're a Cartoon Saloon family. Their animations are always beautiful, and the stories are so stirring. The kids ADORE the wolf transformations in this feature. Bonus points for one of my favorite songs and favorite artist being a highlight ("Running with the Wolves" by Aurora)
Follow Along on the Countdown!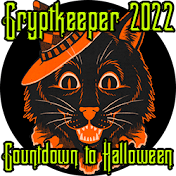 Check out all the awesome crypt keepers helping you count down to Halloween this year!