Couch cuddlers will love our television cozies corner. An ambiance-filled space in front of the tv is a must for Halloween movie watchers. Although, technically, we're looking at three separate spaces that make up what we need for some sofa setting.
We found these adorable plushies that matched a blanket we already have. The Haunted Mansion throw and pillow are from Disneyland way back. Altogether, these don't seem like a fit, but I like them both on the couch. At the ready for snuggling with.
The television space itself fall more into my vintage Halloween theme. As fate would have it, my mom is a decor expert. She can transform a space with some well-placed fabrics, and I love to do the same. The orange over the tv console is just orange scrap fabric with an old table runner from Target. I paired this with the candy corn bottle brush trees and the candy dishes on each side. The windows framing our television are decorated with vintage die-cuts and orange neon light cats.
Lastly is this fun little shelf. As you can see, it is decorated with some jovial skeletons, skulls and leatherbound books. How is this related to our television cozies? I'll let you in on a little secret; those books are actually our dvd/blu ray collection. Awesome, right? We've been on the search for new disc storage alternatives and I'm over the moon on this latest set up. Now we can grab our favorite spooky movie in style!
I'll admit that this space isn't my forte. I always struggle with decorating the tv area. Are you a lounge decor master? Maybe you have some tips to share down in the comments…
Follow Along on the Countdown!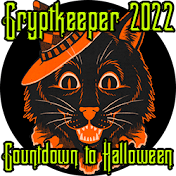 Check out all the awesome crypt keepers helping you count down to Halloween this year!