I teased this shocking green cocktail in my Instagram stories last week and I am so excited to reveal "The Fluffy Spider" cocktail! She's green, fluffy and ready to enjoy for Be Kind to Spiders Week. If her color is enough to catch you eye, she would be a hit at Halloween time too! Otherwise, you could be especially daring and make her a tea party treat. Just imagine pouring out of a teapot and truly shocking your party guests.
A plethora of cocktails have come and gone. Surprisingly enough, I've never actually shared a spider inspired cocktail. Shocker, I know.
I've had the fluffy spider cocktail on the back burner for quite a while. It is inspired by my obsession for Fluffy Stuff Spider Web cotton candy and a love for candy floss cocktails. Anyone else absolutely obsessed with that spider web cotton candy when it pops up during Halloween season? I cannot get enough of it and buy a good stock of them before they disappear.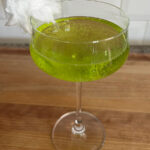 Print Recipe
The Fluffy Spider Cocktail
Ingredients
1

oz

Melon Liquer

Champagne

chilled
Instructions
Fill cocktail glass with cotton candy

Top with champagne (about 4 oz worth)

Garnish with more cotton candy on rim of glass
Notes on the Fluffy Spider Cocktail
I've seen plenty of champagne cocktails where you use cotton candy in them, but I wanted to find a combination that brought out the sour apple flavor of the cotton candy. The melon in the Midori was just the thing. As a result, we have this shocking green color! I would recommend using a less sweet champagne for this recipe. A personal favorite that I used was the Mumm Cuvee "M" (it has a navy blue label). Regardless of the brand, any cuvee or brut will work very well with this. A sweet champagne will drown out the sour apple from the cotton candy. This brings out the melon liqueur flavor more and makes it too sweet of a cocktail.
---
Will you dare to try the Fluffy Spider cocktail? I think she's pretty cute and perfect to enjoy when you're looking for a cocktail focused more on the flavor than the alcohol.
Would you be interested in more spider-inspired cocktails? I'd love to make more of them, but it's unexpectedly surprising how much of a challenge it is to come up with arachnid libations. Leave a comment with your favorite spider to get me inspired to create even more spider cocktails!