Leaving goodies on your neighbors' doorsteps is a real treat, but nothing is quite like this cobweb care package I'll be sharing with you today.
I am obsessed with the whole "You've been Boo'd" packages you leave on your neighbors' doorstep. It is such a fun way to spread the Halloween spirit in your neighborhood during October. As such, I thought it would be so fun to do something similar for Be Kind to Spiders week. The intention is for this to be a simple care package to gift to your neighbor. Anonymity is up to you on this one. 
You can make it as simple as you like, but I went with filling a cellophane bag with round powdered donuts and little toy spiders (prewashed before bagging). These simulated "spider eggs" as a treat to leave for my neighbors. I saw this idea for a Halloween party, but thought it was PERFECT for Be Kind to Spiders week crossing with Easter season.
I wrapped up the bags with the included twisty tie and attached the following info card. You can download and print out the same card by clicking on the PDF link below. The file includes a printable set of four cards. Just hole punch it at the top and you can attach it to your own Be Kind to Spiders care package.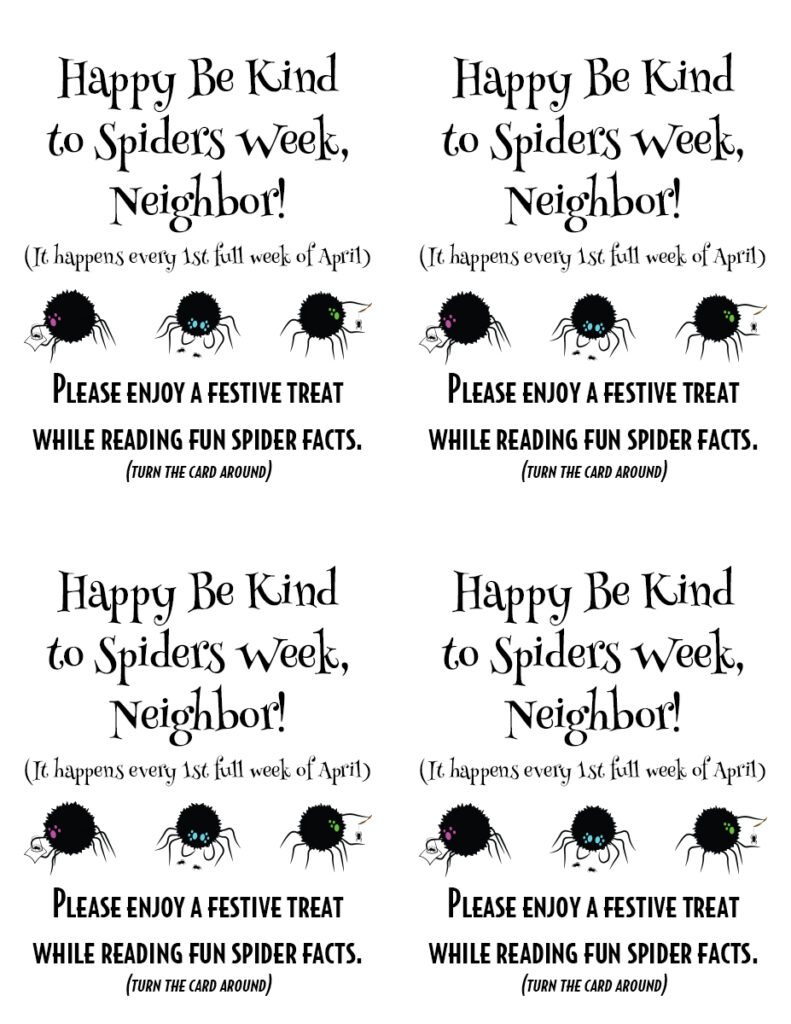 It's a very simple treat to throw together and you get to share the awareness of how important it is to care for our eight-legged friends.
Share with me in a comment down below what treats you might put into your Be Kind to Spiders care package. I bet a lot of you out there would have some VERY creative ideas.