HallowWoods dropped this beautiful Halloween calendar in 2021, unintentionally turning it into our family tradition! When Matt dropped this super fun Halloween calendar in 2021 I was over-the-moon. This calendar started and ended in October, highlighting spooky events throughout the year. It was so exciting to see him bring it back for 2022 and I hope it continues to remain his annual tradition.
As you know, countdown fun is my jam. Although I am terrible with dates, I do love peeking at this calendar to see what frightful fun happened on any particular day. I greatly appreciate that the first October for 2022 is the same as the last October on the old calendar. Not having to pick between one illustration or the other was a relief. However, be sure to make note of special dates from the old calendar since they are a little different when it comes to what is featured.
Love the idea of this calendar? Last I checked, you can still order a Halloween Calendar from HallowWoods on his site.
Follow Along on the Countdown!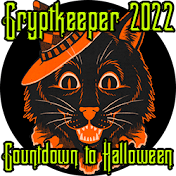 Check out all the awesome crypt keepers helping you count down to Halloween this year!