I am super excited to introduce Folks and Fables to my family as a new Halloween tradition. This unique item comes from Heirloom Art Company and I fell in love with the idea. I felt it would pair off nicely with our Halloween Tree as an extension.
Everything comes in this beautiful tin box decorated in folk art styled illustrations. As you can see, it features a black cat, harvest motifs and children's silhouettes. You can find the general instructions for how this works on the bottom of the tin. However, I feel like you could very easily adapt this in any which way. The card is pretty, but I'm already formulating ways to modify it for next year. I messed up when writing on it and we do not need eight lines for future children. The two we have are enough spooks for our home.
Also packed with the card is Boo, the stuffed cat you see pictured here. His limbs and tail have wire in them to pose him however you'd like. He's supposed to be like an elf on the shelf, where you move him around the last 14 days of October, placing him with photos, trinkets or favorite treats from the family members on the card. Once your children find him, you share a story about the family member related to the photo, trinket or treat.
What new practices are you starting with your loved ones this year?
Follow Along on the Countdown!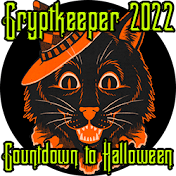 Check out all the awesome crypt keepers helping you count down to Halloween this year!