The farm we visit isn't always the same, but our longest standing tradition has been to make it out to a farm in full harvest splendor. We've repeatedly visited our local patch/corn maze since 2010 then discovering a new local pumpkin patch. Even a Minotaur hay maze has been on our list!
We still haven't fleshed out our visit plans for this year, but we've got some choices to choose from. We try to make it out within the first half of the month, if possible. This is due to the younger crowd just having no respect for the properties. When we've gone later in the month, people have messed up the mazes and had their pick of the pumpkins. This leaves little to enjoy. Our plan is to go this weekend. However, if it doesn't pan out, we'll be trying something completely different this year. What we have on the burner as a back-up should be very interesting!
Are you a maze or patch person? We love when they have both, but we're always down to new experiences too!
Follow Along on the Countdown!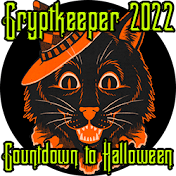 Check out all the awesome crypt keepers helping you count down to Halloween this year!