Were you excited by the idea of my Midsummer Scream pin drop announcement two weeks ago? Well, hold on to your headless horsemen, because I've got one more fun activity in store for Midsummer Scream attendees. All it requires is you locating me during the event!
I was so inspired by my Instagram pal, Venus (@halloweenxo) when she did her own brand of trick-or-treating last year at Midsummer Scream. She walked around with a giant bag of goodies she would hand out to you if you braved coming up to her and declared "trick or treat!". I missed out on the chance to trick or treat with her last year, but I followed along when she was posting on her stories and it looked like so much fun! It seemed like a great way to try and connect with spooky friends you might only see through social media or even get to know people you didn't know before.
I hope she doesn't mind that I'm borrowing her idea this year and turning it into my own "cheers or treat".
It works in practically the same way. If you spy me at Midsummer Scream, come on up to me, say "cheers!" or "trick or treat!" and I'll have a little mini goodie bag to give to you! Look for me dressed in either of the following outfits each day:
Saturday, August 3rd
Tiki Inspired Elvira, Mistress of the Dark
Sunday, August 4th
Candy Corn Pinup-styled Outfit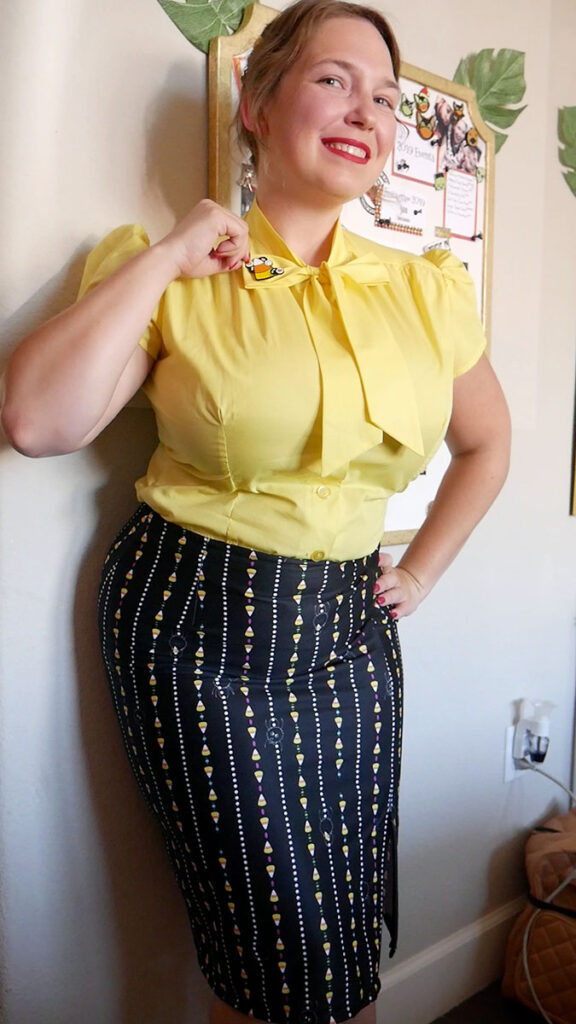 In case you were wondering what exactly might be inside the goodie bag, it contains my candy corn enamel pin in addition to some other tiny surprises. I will only be walking around with 30 of these pins the entire weekend, so if you see me, be bold and say hi!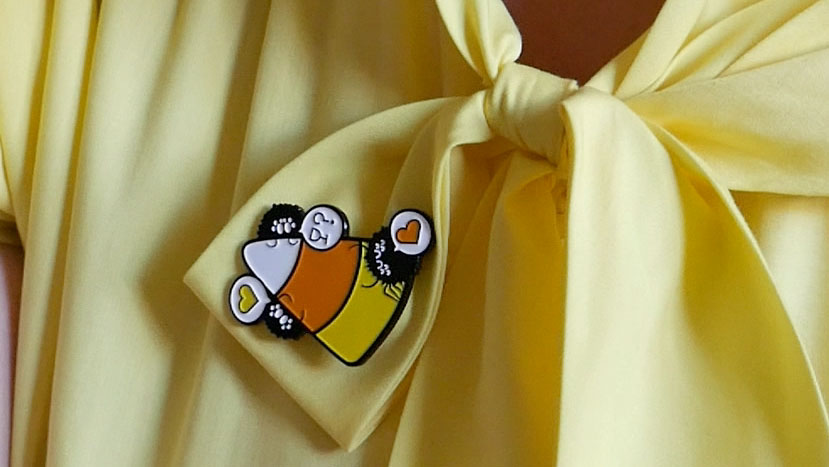 I'll do my best to frequently update my location on my Instagram stories so that it's not too challenging to find me in such a large space. I don't know what the estimated attendance for 2019 is, but 2018 had over 22,000 attendees. That's a lot of people to be around when trying to locate just one individual without some sort of guide in finding them. The best guide you'll have in finding me and my pins will be by following my instagram.
Fearing you won't catch me in the crowd or know that you can't make it to Midsummer Scream this year? Lucky for you, I am releasing my pins for sale starting TODAY! I only had 100 of these candy corn cuties made. I'm selling them for $15, which INCLUDES shipping and tax. That's right, no surprise fees. Just a flat rate of $15.
I can't believe we are just a little over two weeks from Midsummer Scream. I am still feeling thrilled for its arrival.
---
Will you try to "cheers!" with me at Midsummer Scream this year?