Have you ever asked yourself, "Is Midsummer Scream actually worth all the hype?". Tickets for Midsummer Scream 2023 released last Saturday and I am getting so pumped for this event once more! However, I'm doing my darndest to convince as many of my spooky peeps to come join me this year. Which, in turn, inspired me to create a post just for that!
Are you vacillating on attending this Halloween convention? Then this should help you decide if Midsummer Scream is the Halloween Kickoff party you need in your life.
Why Midsummer Scream?
I have had the pleasure of attending Midsummer Scream every year with the exception of its' first year. Full transparency, I really don't see myself giving up on it anytime soon.
Each year I have attended has been a unique experience. Black Cat Orange does not hesitate on bringing something new and unique to their event each year. Their themes are creative and add a unique spin to what will be encountered everywhere. From the Hall of Shadows to the panels and presentations, I genuinely feel there is a little something for everyone.
Long story short (too late)…This giggly gal with the glass of boos will be returning in 2023 for my FIFTH year of attendance.
Questions from those wanting to Attend Midsummer Scream
I couldn't resist taking to Instagram to ask my fellow Halloween lovers that are on the fence about attending Midsummer Scream. There were some wonderful questions! Thanks so much to everyone who provided their insightful inquiries.
Do you feel it's a really amazing time?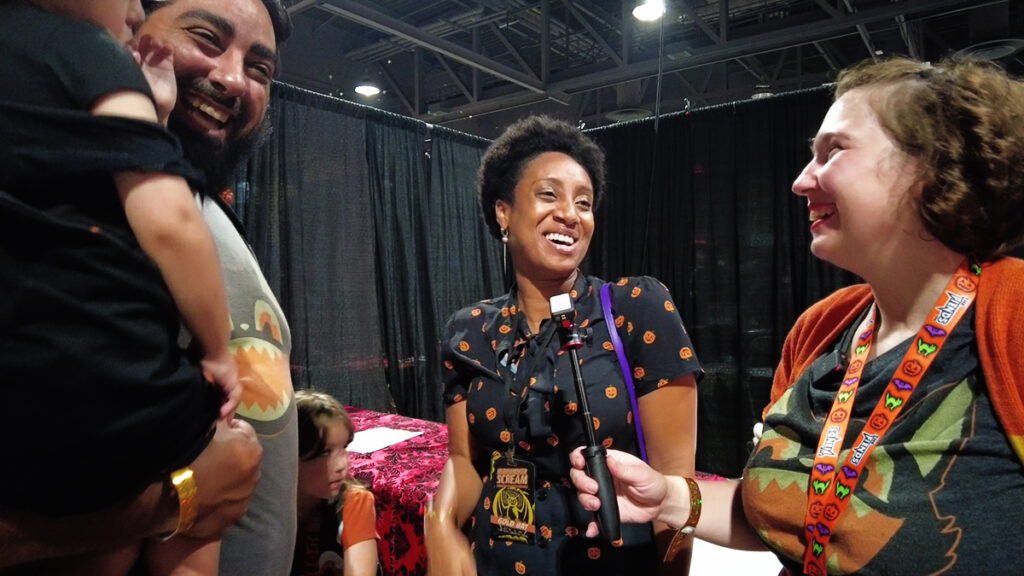 I genuinely do! As mentioned above, Erick and I have attended four of their five years. Each of those years, I was either pregnant or had the littles in tow. It's a well-balanced convention targeting all niches of interest. From horror films to haunt creation to Halloween history and shopping, they've included it all. They even feature an entire area for mini-haunts for those that like the in-person scares. Their vendor hall covers a wide range of goods from artists and authors to costume prosthetics to spooky treats to decor and haunt props.
I really love the macabre theater to watch people like Twirly the Clown and the Halloween Radio Spooktacular. However, I've also found myself in the big panel rooms to see 40 years of "Elvira, Mistress of the Dark". I cannot vouch for the haunts, but the scare actors are always entertaining as they wander the Hall of Shadows. Plus, you can escape from the hustle and bustle in the Black Cat Lounge to chill with some little purr-babies. Or! Take a peek at what's showing in HorrorBuzz's Screaming Room for short films from all over the world.
My youngest is 11 years old. I'm curious what the experience is like taking kids.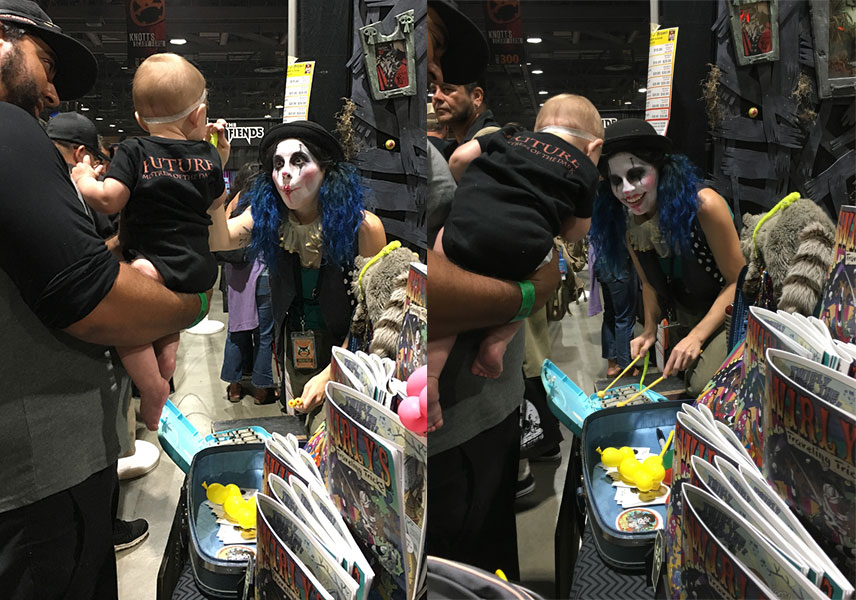 Before I get into how much fun my littles enjoy the experience themselves (which they really do!), I have to drop some honesty. A good half of this convention does not just focus on Halloween, but also Horror. You will see vendors that cater to this in addition to people in costume as horror film characters. Think about what an experience is like walking into a Spirit Halloween with your young ones. Sometimes, there are costumes not 100% family friendly or some props that are little too intense for your kids. Now, imagine people walking around as Freddy Kreuger or Blood-soaked Carrie. If Spirit is a little too much for your littles, Midsummer Scream will more than likely be as well.
Despite the horror, there is plenty for kids to do. My daughter's favorite is an area in the vender's hall called Pixie Hollow Pumpkin Patch. This area offers all kinds of arts and craft activities in addition to children-friendly performances. This includes Bob Baker's Halloween Spooktacular and live readings of children Halloween books.
This area is right near the entrance of the vender's hall. This means there is no need to take them through horror displays. The Hall of Shadows is usually in the very back of the hall. You won't need to pass the area if it's going to be too much for your kiddos.
Additionally, remember that Screaming Room I mentioned? They host an hour especially for kid-friendly horror shorts. It's a lovely little break when the bustle of the convention center gets to be too much.
How are my kids at Midsummer Scream?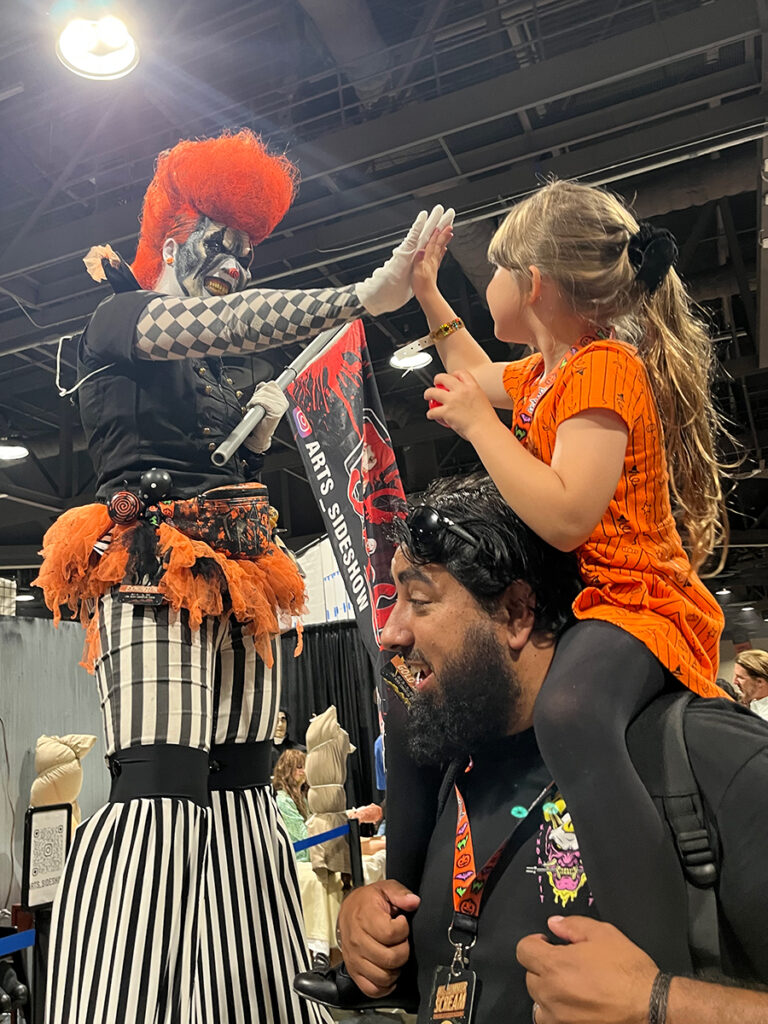 Three out of four years attending Midsummer Scream, we've brought our kids. This year, they'll be 3 and 5 years old. Both of my kids get just as excited as I do walking into a Spirit Halloween. When we have interactions with scare actors from the haunts, they are always extremely friendly. Their welcoming nature and excitement when they see my daughter wanting to brave the haunts is pure joy. From my experiences, I haven't seen the scare actors go out of their way to frighten children. They get more of a kick with terrifying the adults.
Horror cosplayers tend to completely ignore the existence of children. The really only interact if you ask them for a photo. There have been times where my littles were a little hesitant on an interaction with the scare actors. Upon which, they clearly read the mood and would either back away or offer a treat. We are always at the ready to change our plans dependent on our kids' comfort levels are. Fortunately, we haven't had to do that yet.
Tips for spending a long day at MSS?
In regard to conquering the convention as a whole, we do our best to pack snacks and lots of water to handle each day. A backpack over a purse or bag is going to be your friend! We also utilize Pixie Hollow as a place to rest when the kids need a break. I also recommend bringing an adult partner-in-crime that your kids are familiar with. That way, when someone wants to catch something but the kids are done, you can split up and meet there.
Drink water! Hydrate! Drink water! Keep hydrated, my friends! Honestly, I've never seen them turn away a water bottle. However, we usually buy a case of clear bottled water and replenish our backpack each day. We also refill them at the water fountains as needed.
I highly recommend you download the app for pregame planning. This has been a lifesaver! When planning to stay from open to close, this allows you to look at the whole schedule. They tend to release it a good month in advance. I use this to plot out the game plan for each day. It has done wonders to ensure we catch what we want without overwhelming the kids. The app allows us to have backup plans if we couldn't catch something or when we need to split. It gives us ideas for entertaining the kids.
Take the time to rest!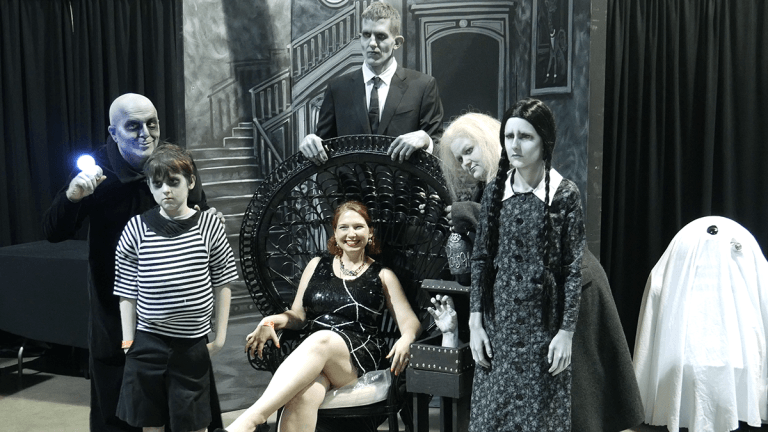 I also suggest utilizing the rest areas found all over the convention. There are cushioned chairs everywhere on the concourse as you walk to and from the different panel rooms. I tend to find the areas upstairs less populated if you really need some downtime. The main floor also has a whole room with charging stations set up if you need to replenish your device. However, that area is ALWAYS crowded, and we've gotten in the habit of bringing a pocket charger or two.
Pixie Hollow is a perfect retreat for unwinding. They have a huge shag rug taped to the floor that's pretty comfortable. If sitting on the floor is too physically challenging, you can chill at the tables to craft for a bit. Kids of all ages are welcome, but no booze allowed as this is a safe space for the real children.
Could you talk about budget a little bit? It's a new goal for me, but I don't know much about the costs.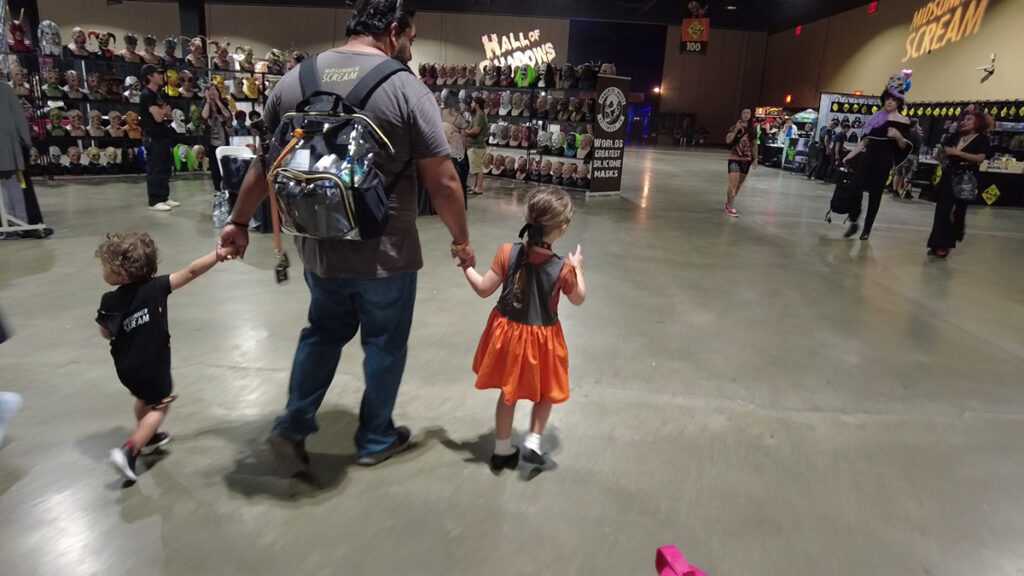 Hopefully, this doesn't discourage anyone, but California is, unfortunately, rather expensive. I can share what we do as California locals, but my knowledge is limited for out-of-state travelers. Anything in that regard is based on what i've heard from my friends who've traveled into Cali.
First things first, if you're attending for the first time, I really encourage you to try out the general admission. It's half the cost of Gold Bat passes and doesn't limit you on what you can or cannot attend. However, if you want shorter lines for popular panels and the haunts, the Gold Bat may be worth it. Some vendors will also have exclusive items or discounts for Gold Bat passes, but not everyone. You also get a laminated pass and an exclusive pin for being Gold Bat. This pass includes entry to the After Dark party on Saturday which is an additional $25 for General Admission.
Gold Bats passes cost $140 a person versus the $65 for the general admission weekend pass for 2023. We've had fun attending with both kinds of passes. One of the biggest things that influence your decision will be if you feel you will take advantage of the Gold Bat perks. Keep in mind that if you have children under 10, they get in free with General Admission pass. Unfortunately, if you plan to use Gold Bat perks like early admission and shorter lines, everyone will need their own pass. This includes all children under 10.
Room and Travel Costs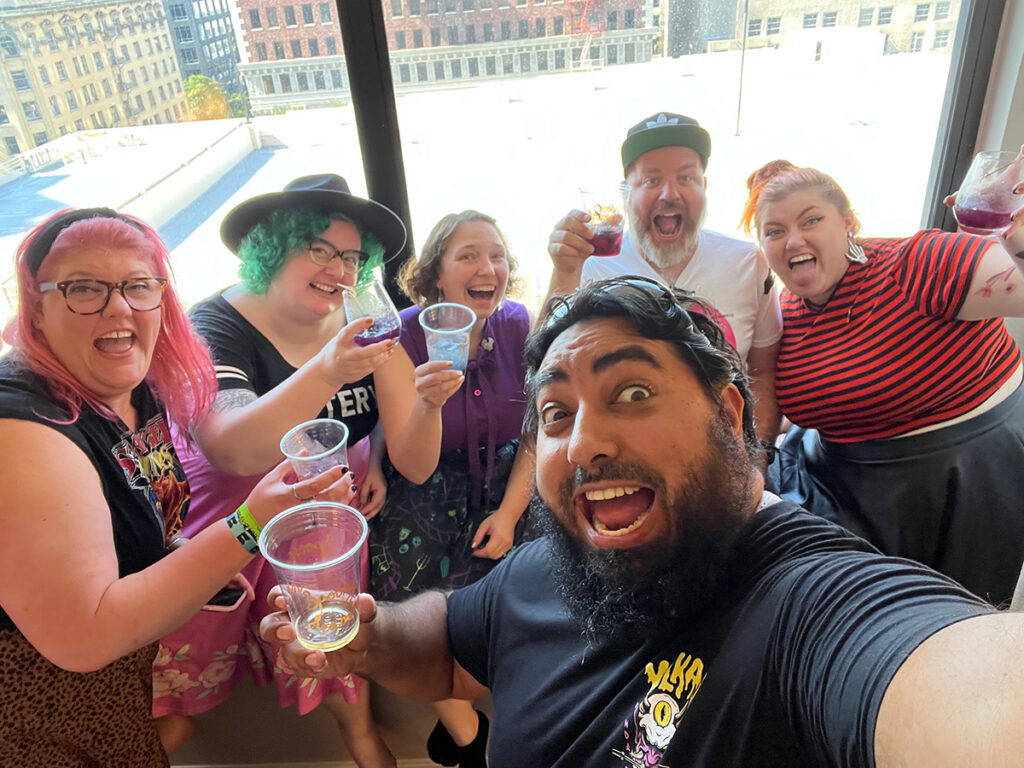 For lodging, try to take advantage of Midsummer Scream's hotel deals. They offer the best deals for some of the closest hotels. All the hotels are walking distance so you don't have to worry about parking. Last year, there were quite a few times where the parking garage booked-up. People took longer to get in due to lack of parking or paying more for futher away parking lots. An AirB&B may save you some money in the long run. However, there are some important things to consider. The farthest MSS hotel is about three blocks away. This is much better than having to deal with SoCal traffic at the end of a long day. The MSS 2023 hotels range from $200 – $245 a night which is pretty average in California. We've stayed at the Renaissance the last two years and have been rather happy with it.
Travel seems to be the most expensive for our out-of-state friends. We're based in Northern California and make a 7-hour drive. Plane tickets for a family of four add up to more than three full tanks of gas. Flying is not an area we can really vouch for. I did try a quick search for flying into California's Burbank airport on Friday and out on Sunday. Some tickets cost as low as $110 on Friday and $175 on Sunday for this coming year. Another great way to save money is to fly in on Thursday and out on Monday. If you can arrange a shuttle from LAX, I've found the larger airports tend to have cheaper air fares. Watch out if you can't get a shuttle because this is where Uber and Lyft can get expensive.
Previous Midsummer Scream Events with Chelsea
The summer of 2017, I was pregnant with my daughter, and it was my first time attending Midsummer Scream. They were only in their second year. As experienced convention attendees and convention volunteers, Erick and I were very impressed with how well lines and check-in was handled. We did general admission passes for this year.
Our daughter was seven months old when we attended in 2018. We LOVED how friendly and receptive the scare actors were towards. This was Midsummer Scream's first year to introduce a solid theme, which was 100 years of Frankenstein. We purchased general admission passes since I was still breast-feeding and wouldn't be able to take advantage of the Gold Bat perks.
The theme was something that really appealed to me in 2019, being all about tiki in horror. We gave a try at purchasing Gold Bats this year and loved the perks. Due to our daughter being one and a half, we did not take advantage of early admission in the morning.
The third theme for Midsummer Scream was Vintage Halloween, which played to all kinds of vibes. We purchased general admission tickets in 2020 because my son was only going to be four months old. We didn't think we could take advantage of gold bat perks. However, when it got pushed back to 2022 and media passes applications opened, I applied and was approved! We were also able to get our general admission passes upgraded to Gold Bat.
But is Midsummer Scream worth it?
This is a challenging thing to answer. For me, yes! I absolutely think Midsummer Scream is worth the hype. However, there are many factors that could keep you from going. Travel expenses, the size, et cetera. Spooky Little Halloween has a great list and guide for finding Halloween Conventions near you. Because Midsummer Scream is not the only one. If you're looking for the vibes of Midsummer Scream, but on a smaller scale, I greatly encourage you to check out their Season's Screamings event! I may love that event even more than Midsummer Scream!
Inspired to attend Midsummer Scream in 2023?
Lucky for you, Midsummer Scream released their tickets this past weekend on March 4th. Passes are currently 40% off all General Admission! This deal is only available for a limited time. Be sure not to miss out if it is something you genuinely are interested in.
Feeling convinced to attend? Be sure to say hi if you see me! I'll once again be doing a countdown challenge on Instagram as we get closer to the date.